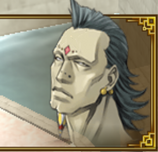 Garik is the co-captain of the Liberated Mountain Corps along with his twin brother Nakula under the leadership of Clay in the Darja Clan. He is an identical twin to his brother, say for the large scar on Nakula's forehead he received during the Sun Rune War.
At one time, he was equal to his brother in battle with use of a spear, but after their father was murdered by Nether Gate, Garik had grown tired of all the fighting and bloodshed, so he put his weapon down. Nakula had a different reaction, he wanted vengeance and spent the next few years trying to track down Nether Gate, when that failed he returned to the Southern Mountain Corps until the Sun Rune War.
However, once Clay's Rebellion broke and he heard that Nakula had joined Clay to overthrow the nobles in Darja, he once more picked up his spear to join the fight. Feeling that by defeating the corrupt nobles it would make the lives of the people in Darja better off and it would give him a chance to get reacquainted with his estrange twin brother again.